CIO Life Sciences Summit Partners
CDM Media partners with analyst organizations, associations and media companies (in print and online) to build beneficial relationships. Partners reach new audiences, share valuable resources and build awareness for the CIO Life Sciences Summit.
If you are interested in partnering with CDM Media for the CIO Life Sciences Summit, please contact Rachel Tait, Senior Director, Client Services & Event Management CDM Media, at rachel.tait@cdmmedia.com or +1 312.374.0820
Media Partners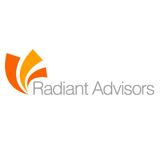 Radiant Advisors is a strategic advisory and research firm that networks with industry experts to deliver innovative thought-leadership, cutting-edge publications, and in-depth industry research.

PharmaVOICE magazine, reaching more than 25,000 BPA-qualified life-sciences executives, is the forum that allows business leaders to engage in a candid dialogue on the challenges and trends impacting the industry. PharmaVOICE provides readers with insightful and thought-provoking commentary in a multiple-perspective format through forums, topics, and articles covering a range of issues from molecule through market. PharmaVOICE subscribers are also kept abreast of the latest trends and information through additional media resources, including WebLinx Interactive WebSeminars, Podcasts, Videocasts, White Papers, E-Surveys and e-Alerts. Additionally, PharmaVOICEMarketplace.com provides a comprehensive directory of products, services, and solutions for the life-sciences industry. To Raise Your VOICE, contact feedback@pharmavoice.com.